A large number of women suffer from pelvic floor dysfunctions.
These dysfunctions can range from Incontinence, Pelvic Pain, Diastasis Recti, Prolapse, Interstitial Cystitis,
Bowel Dysfunctions, Lower Back Pain, Hip Pain and Sexual Dysfunctions.
Do I Have to Live With Pelvic Floor Symptoms?
Most women assume that they will have to 'Live with it' and that 'It is normal to have these symptoms'. While it is common to develop dysfunction in the pelvic region, it is not something you need to live with! Most women are not aware that specialized Pelvic Floor Physical Therapy can help with their symptoms and it is very effective!
What Is the Pelvic Floor?
Pelvic Floor, like any other part of our body is composed of bones, muscles, ligaments and fascia, along with some vital organs such as the bladder, uterus, and rectum. Dysfunctions in the pelvic floor can therefore create issues in these organs as well. For example, if you have a very tight pelvic floor, you can experience pain with intercourse. Having a weak pelvic floor can also create symptoms like incontinence, prolapse, pelvic pain and interstitial cystitis.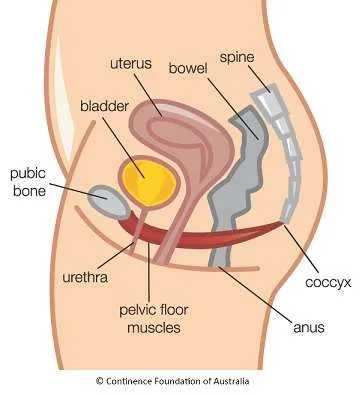 How can Pelvic Floor Physical Therapy Help Me?
With a thorough assessment, our highly skilled Physical Therapist will evaluate the muscle imbalances that may exist in the pelvic floor or any fascial restrictions which may be creating your symptoms. With both external and internal (per-vaginal) techniques, these restrictions/ weaknesses can be alleviated, in turn resolving your symptoms. Biofeedback equipment may also be utilized to give you instant feedback on muscle recruitment, strengthening, etc.
Can I See a Pelvic Floor Physical Therapist Without a Doctor Referral?
Yes, in New Jersey you get direct access to certified Physical Therapists, such as Liberty Physical Therapy. You don't need a Doctor's referral or prescription to start treatment. Also, we accept most insurance plans.
Conditions Treated with Pelvic Floor Physical Therapy
Post-partum Rehabilitation

Pelvic Pain

Dyspareunia (Painful intercourse)

Interstitial Cystitis (Painful bladder)

Prolapse

Incomplete emptying

Urinary Urgency / Frequency

Piriformis Syndrome

Hip Pain

Levator Ani Syndrome

Episiotomy Scar Pain
Coccyx / Tailbone Pain

Mastectomy Pain

Endometriosis

Fibromyalgia

Menstrual Problems

Lower Back Pain

Vulvodynia

Vestibulitis

Clogged / Blocked Milk Ducts

Pubic Symphysis Separation / Pain (SPD)

Pudendal Neuralgia

Vaginismus

Chronic Constipation
Schedule an Appointment with our Pelvic Floor Specialist
I am pregnant, will you be able to treat my back or pelvis?
Yes! We are the only practice in Jersey City that offers treatment on a special table with Prenatal Cutout. You can lie face down and unload your back while the therapist is treating you. No need for bulky uncomfortable pillows. Our patients love it!

Can I bring my baby with me?
Absolutely! We offer bouncers and rockers in each room for the comfort of your baby while you get treated. If possible, try to come without the baby for the first appointment since it involves more conversation and a thorough assessment before formulating the treatment plan. We also have a changing table in one of our spacious bathrooms.