The digital age has ushered in an avalanche of postural syndrome cases, as the use of electronic devices puts the neck in a position it was not designed to maintain. Among all such gadgets that make modern life more enjoyable, the worst enemy of good posture is your smartphone.
The world's love affair with smartphones has led to a condition called text-neck, a disorder that has become a mammoth-sized epidemic with the 2 billion smartphone users in the world. Here are the problems created by poor posture and what you can do to prevent or alleviate them.
WHAT IS TEXT-NECK?
Text-neck is a postural disorder caused by long periods of bending the head forward and downward during texting. This head position exerts a continuous strain on the joints and musculature of your neck and mid-back.
It also straightens out the natural curve of your neck, an effect that can lead to neck pain, shoulder pain and back pain, in addition to headaches and arm numbness. If left unchecked, the condition can result in more serious disorders, such as herniated or degenerative discs permanent spinal arthritis and postural syndrome.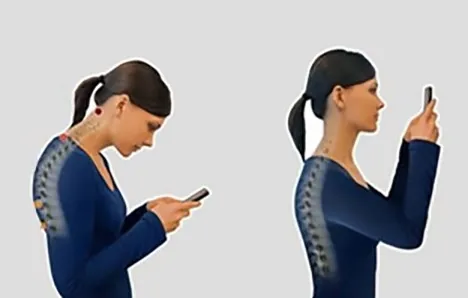 Left: "Text-neck" posture     Right: Correct posture
HOW TO PREVENT TEXT-NECK
 Stop slouching

Experts recommend several measures to prevent text-neck. Instead of tilting your head downward to text, hold your cell phone up at a neutral eye level.

 Take breaks and stretch

Stretching movements can immediately relieve tension caused in the neck by text-neck and other posture problems. Very easy movements to reverse the poor posture are 'Chin Tuck' and 'Shoulder Blade Squeeze'.

The Chin Tuck is like forcing your body to make a double chin then releasing it. You keep your head neutral, chin level and pull the head back like a turtle. Hold for 2 seconds and repeat 10 times provided the exercise is pain free. Repeat 3 – 5 times daily.

Chin Tuck

For Shoulder Blade Squeezes begin sitting or standing tall with your back and neck straight. Squeeze your shoulder blades together as far as you can go and feel no more than a mild to moderate stretch. Hold for 5 seconds and repeat 10 times provided the exercise is pain free. Repeat 3 – 5 times daily.

Shoulder Blade Squeeze

 Strengthening Exercises

You can also restore the curve in your neck by doing exercises that build up the affected muscles. Most important muscle groups to strengthen are your upper back muscles and deep neck flexors.
WHAT IS POSTURAL SYNDROME?
While text-neck is the most widespread postural disorder, it falls under the umbrella of postural syndrome, a term that refers to a broader spectrum of maladies.
Postural syndrome is caused by poor posture over a prolonged period of time. This may occur in any position such as standing or lying, but is particularly common during sitting (e.g. at a computer, watching television, or driving). Due to excessive strain on certain structures in poor posture, pain starts and if left unchecked, it creates permanent damage in the over stressed structures. With time, wear and tear results in arthritis, disc degeneration and in extreme cases, nerve damage.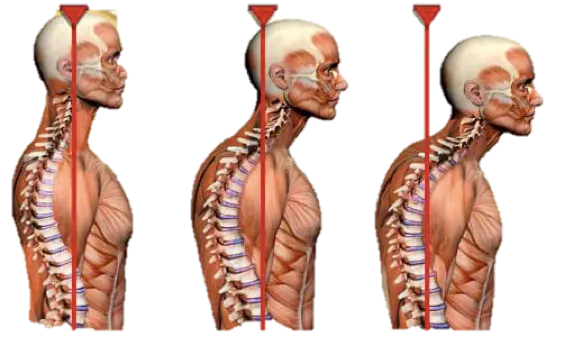 Degenerative disc disease is the thinning of the discs in your neck (or back) which separate your vertebrae. When these discs thin and compress, the distance between each vertebrae narrows which can cause nerve roots to become pinched. This process can lead to severe pain in the neck, back, and shoulders.
HOW TO PREVENT POSTURAL SYNDROME
 Standing

When standing, be sure to stand upright, with your shoulders back and chin level (not tilted up or down).

 Sitting

Similar to standing, be conscious of sitting in an upright position with shoulders back and chin level. Lower back should have a slight curvature which is concave in the back. If you slouch in the lower back, your neck automatically adapts a poor posture.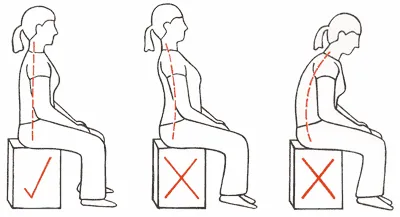 TREATMENT FOR TEXT-NECK & POSTURAL SYNDROME
If you are already feeling symptoms such as headaches, heaviness in the shoulders, feelings of 'rocks' around the shoulders, neck pain, tingling and/or numbness in the arms, it is time to consult a Physical Therapist.
Our Physical Therapist will assess your posture in sitting, standing, walking, sleeping, etc. and make recommendations for changes. They will also assess the muscle flexibility and strength in the affected areas and prescribe exercises to restore balance. Sometimes the tissue needs additional love in the form of Trigger point releases, Deep tissue mobilization and modalities like ultrasound and electrical stimulation.
Most patients with these symptoms recover quickly if addressed in time. If left untreated, they can progress to more chronic neck and shoulder pain, and even bulging or herniated discs in the neck that could require surgery.
PHYSICAL THERAPY IN JERSEY CITY
Liberty Physical Therapy is a state-of-the-art physical therapy center conveniently located in the heart of Downtown Jersey City, next to Grove Street Path Station. We are a team of specialists with several years of experience in treating chronic conditions. We can offer you the safest and most effective Physical Therapy treatment in Jersey City. And, we accept most insurance plans.